There are five classic fast 85mm / 100mm lenses in the Minolta SR lineup:

1) Auto Tele Rokkor / MC-Rokkor-PF 100mm 1:2 [6 lenses / 5 elements]
2) MC / MD Tele Rokkor-PF 85mm 1:1.7 [6 lenses / 5 elements]
3) MC / MD Tele Rokkor-PF 100mm 1:2.5 [6 lenses / 5 elements]
4) MC / MD Tele Rokkor 100mm 1:2.5 [5 lenses / 5 elements]
5) MD Tele Rokkor 85mm 1:2

While the MC/MD 1.7/85mm Rokkor is well known (and sought after), there's not so much reliable, unbiased information about the other Rokkors. I'm not aware of any comparison including the rare and expensive MC 2/100mm. Mr. Guido Ehlers, who is shown on these images, has kindly agreed to lend me his rare and pristine Auto Rokkor 100mm 1:2; the other lenses come from my own collection. Thank you, Guido!


All images below were taken with my Sony A7 II (24 MP Full Frame), mounted on a professional carbon tripod. Focusing was done using live view and the "Focus Magnifier" function of the A7 II.

First, let's look at the bokeh! Both the 1.7/85mm and the 2/100mm Rokkors have a reputation for good, calm background blur. The MD 2/85mm is known for its razor sharp images and for the "bad bokeh". The MC/MD 2.5/100mm, both in its 6-lens and later 5-lens versions, is said to be "in between" the bokeh kings (1.7/85 & 2/100mm) and the MD 2/85mm.


If we compare the detail resolution and microcontrast of the three 85mm lenses, there are slight differences. The early MC-II 1.7/85mm is a bit on the soft side, the later MD-II 1.7/85mm may have a slightly better contrast, and the MD-II 2/85mm delivers the clearest image.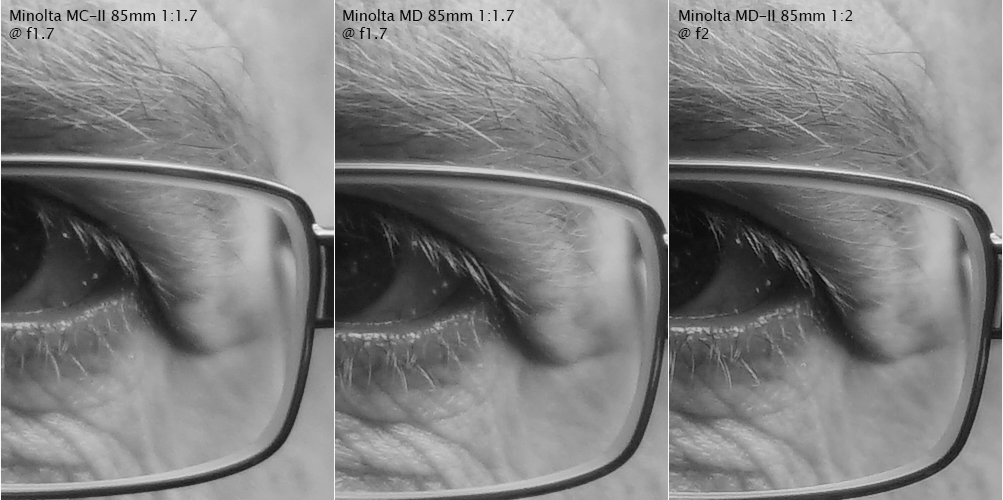 Below are the 100% crop from the three different 100mm lenses. Sadly, the middle one (six lens MC 100mm f2.5) is slightly out of focus (the dust on the glasses is perfectly sharp).